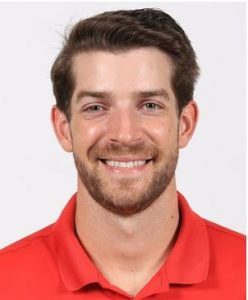 Experience
Radack enters his first year as TSI's Player Development Coordinator while also fulfilling his role as Hitting Coach at the University of Richmond.
Radack works in many roles as the Player Development Coordinator which include developing training curriculum for players ages 6-14,  implementing programs/ events and assisting in the training, development and evaluation of the TSI coaching staff.
Radack works in many roles as the volunteer assistant. Defensively, he works primarily with the outfielders. works with the hitters on a daily basis and is the primarily facilitator of Spider Baseball Camps.
An All-American outfielder, Radack was drafted in the 20th Round of the 2014 MLB Draft by the St. Louis Cardinals. He played in 203 games during his minor league career before retiring to begin coaching. Over his three-year playing career, Radack advanced as high as Double A, playing with the Springfield Cardinals in the Texas League. He finished his professional career with a .279 average with 33 extra-base hits including five home runs.
He played the outfield for three seasons as a professional, and was one of the most decorated players to ever play for Hendrix College. During his collegiate career, he hit for a .389 average with 64 extra-base hits. In his pro career, Radack hit for a .279 average across four levels of minor league baseball.
While a player at Hendrix, Radack ended his career with school records in games played, starts, at bats, runs, hits, triples, intentional walks, stolen bases and fielding percentage. He is also tied for first in total bases, second in doubles and hit by pitch, third in average, fourth in on base percentage and stolen base percentage and fifth in RBI.
Radack, who is also active with Athletes in Action Sports Ministry, graduated from Hendrix in 2014 with a bachelor's degree in business and economics and received his masters degree in coaching and athletic administration from Concordia University Irvine (Calif.).
Collin is available for private lessons for athletes 8th grade and younger
Contact Collin