TSI is excited to partner with Snapology of Glen Allen to bring their STEAM (Science, Technology, Engineering, Arts, and Maths) enrichment program to kids in the area!
Snapology believes learning STEAM should be joyful and social. Your child will leave our programs and camps feeling confident in their STEAM and Social skills and ready to take on the next challenge.
From fostering a love for learning and critical thinking to building confidence, teamwork, and problem-solving skills, our after-school programs, workshops, and summer camps provide an invaluable platform for your child's future success.
We offer theme-based programs such as Ninja, Pokemania, Roblox, and Superheroes as well as Science and Engineering programs such as Amusement park engineering and Robotics program for kids age 3 through 14.
Current Snapology Offerings at TSI
Monster Mania – Fall/Halloween Event
Tuesday, Oct 17, 2023
 — 
Tuesday, Oct 24, 2023
Get your scare on with Snapology's Monster Mania! Use LEGO® bricks to create your own monster fighter, build a haunted town and have a scary good time during this fun program. Come and join us, if you dare!
Amusement Park Adventures Engineering
Tuesday, Nov 7, 2023
 — 
Tuesday, Dec 12, 2023 
Design your own amusement park in this super fun program! Learn how to use LEGO® bricks and other building materials to make coasters and other awesome rides. Can you design the next Disney World?
Register for Current Snapology STEAM Offerings at TSI
Snapology Birthday Parties
We also offer holiday programs and birthday parties for your budding builder!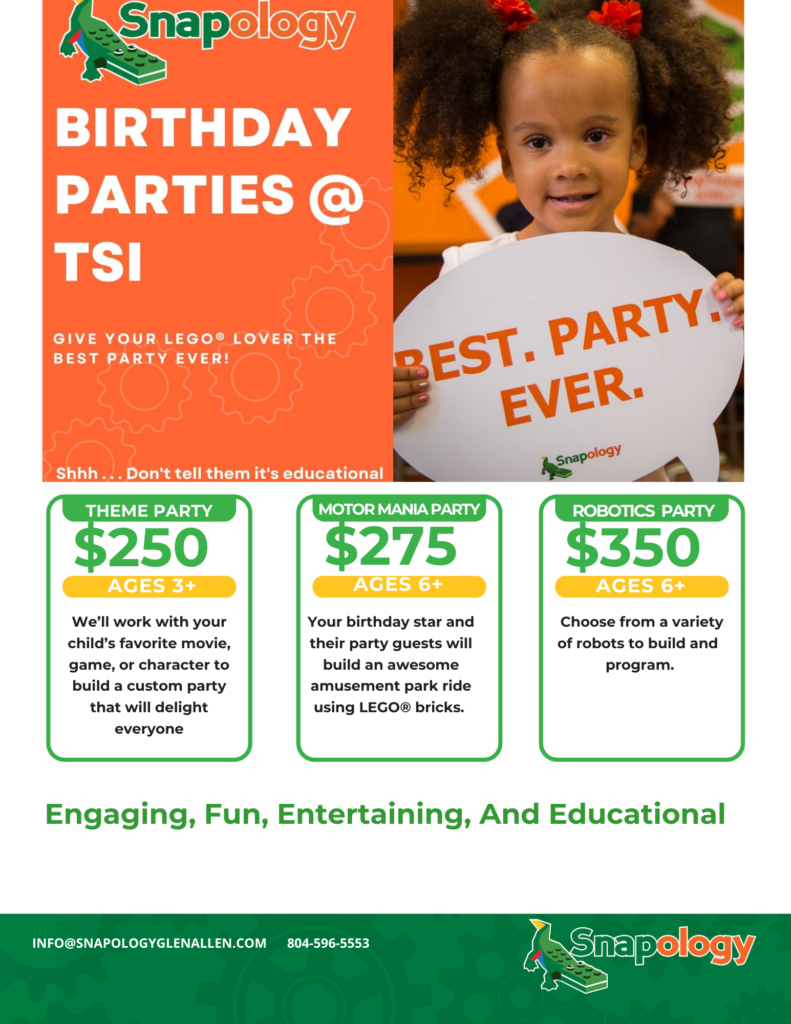 For more information: Snapology Birthday Party Flyer
Register for Snapology Today