2023 Artist Application 
Call for Artists for the 1st Annual Tuckahoe Sports Arts Festival!
Festival is Sunday, October 22, 2023 from 11:00 am – 4:00 pm.
This outdoor event is a juried fine arts show.
Applications, images, and application fees are accepted until spaces are filled.
Online submissions only.
Entry information and fees:
Non-refundable application fee is $20
Insufficient funds fee is $50
Booth fee is $100
Weighted tents are required
Tuckahoe Sports Arts Festival Brochure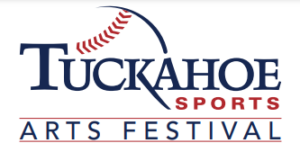 Step 1.  Artist Registration
 PLEASE NOTE THAT THIS REGISTRATION FORM HAS GENERIC REQUESTED FIELDS THAT PERTAIN TO VARIOUS EVENTS.  PLEASE ENTER N/A WHERE APPLICABLE.
       All applicants must submit five digital images of current work. Work must be your original work, but prints are allowed. Include four of recent work plus a booth shot.  Include a description of your work.
Step 2. Submit Photos Here
Artists may only exhibit and sell work in the medium to which they are accepted. Artists may only submit a single application.
Exhibitor Notification
Artists who are selected will be notified by email and then can submit a booth fee of $100 to secure their space. 
Step 3. Pay Online or by mailing a check to: Tuckahoe Sports, Inc. 2450 Little League Drive, Henrico, VA 23233.
An accepted application is a commitment to show. No refunds will be made and the show will be held rain or shine.
We expect all artists to be in attendance in their booths and to present their work professionally. Volunteer booth-sitters will be present as available. Exhibitors who sell their entire body of work must remain with their booths for the duration of the show- no early departures.
Check in, Unloading, and End of Show Details
Check in is 8:00 am – 10:00 am Exhibitors may arrive at any point during this window. You will be able to drive to your location to unload. You must move your car immediately after unloading, then return to set up. All booths must be set up and ready by 10:30 am for Festival Committee inspection.
Booth assignments are at the sole discretion of the Festival committee and are not interchangeable. We will attempt to honor specific location requests but can make no guarantees. Such requests need to be made when submitting your application.
At the end of the show your booth must be totally broken down before bringing your car in to pack.
Booth & Displays
Artists are responsible for providing all booth structures, racks, tables, chairs, display units, and other fixtures suitable for outdoor use and constructed to withstand the weather. Tents must be weighted. The event is rain or shine, so each artist is responsible for appropriate tenting. Artists are responsible for proper insurance and protection of work and structures.
No electricity will be provided. Each artist needs to be self-contained.
Booth spaces are 10 feet wide with spacing between each tent.
Many of us are connected through the former Arts Around the Lake at University of Richmond that ran for 38 years, as alumni coordinators and artists. We have thought about starting a new show for several years, and are finally doing it!

This new location is perfect for both the artists and patrons. The venue is paved and flat, with easy access for unloading for the artists. There is plenty of parking for patrons and the show is free.

-Robin Newton, Tuckahoe Sport Arts Festival Organizer
About the Location
The art show will be set up around the outside of the Tuckahoe Sports indoor training facility. The Training Center is located at the far end of Tuckahoe Park off Copperas Lane in western Henrico County.
Bathrooms are available inside for your use.
Food trucks will be available for you to purchase food and beverages.
Parking specifically for the artists will be provided.
There will be roving volunteers to booth-sit if you need a break.
I certify I am the sole designer of the work to be exhibited. I understand that Tuckahoe Sports Arts Festival is not liable for any damages to my work due to breakage, theft, or injury while I am participating at the show.
 ***Accepted artists will be featured on all social media posts regarding the event.