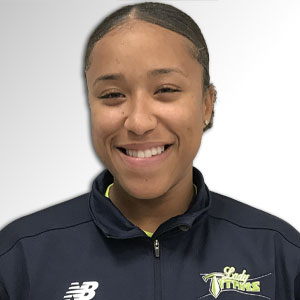 Experience
Tabby is in her second year at TSI.  She is a  graduate of the University of Virginia where she played her final two seasons of college softball. She began her playing career at Richard Bland College in South Prince George, VA as a utility player. In 2017 she was named Second Team All-Region 10 selection, recognized as the 2017 Richard Bland College Female athlete of the year, and led the team in almost every offensive category. That year, Tabby hit .443 (70-for 158) with 10 home runs, 55 RBIs and 49 runs scored. She also tossed 73 innings in the circle with 44 strikeouts.
Tabby comes from an athletic family that is very experienced with coaching the game. Her father played football for East Carolina University and her mother played softball and ran track. Tabby's great uncle played MLB as an outfielder for the Texas Rangers in 1977, the same organization where her Uncle Tony Beasley is currently the third-base coach. Tony played 9 seasons in the minor leagues, originally for the Baltimore Orioles and then the Pittsburgh Pirates, where he also began his coaching career. Prior to his move to coach the Texas Rangers, Beasley was the third-base coach for the Washington Nationals.
Tabby is currently in Nursing School with a limited lesson schedule.
---
Contact Tabby using the below contact form or give her a call at (540) 841-7226.