Several Tuckahoe Sports (TSI) Lady Titans and Mid-Atlantic Orioles softball teams achieved success in recent tournament play.
Both our 14U Orioles and 16U Orioles teams were runner up in the Gold Bracket for the weekend in the August 1-2 Bring the Heat fastpitch tournament.
Meanwhile, the 10u Lady Titans went 3-2 on the weekend. Their bats were on fire with 25 hits on the weekend and our pitchers had a combined 31 strikeouts. They just missed getting into the championship game with a very close 3-2 game.
And just a week ago, the 12U Lady Titans finished runner up in the 2020 SoftballNation Fastpitch Nationals the weekend of July 24!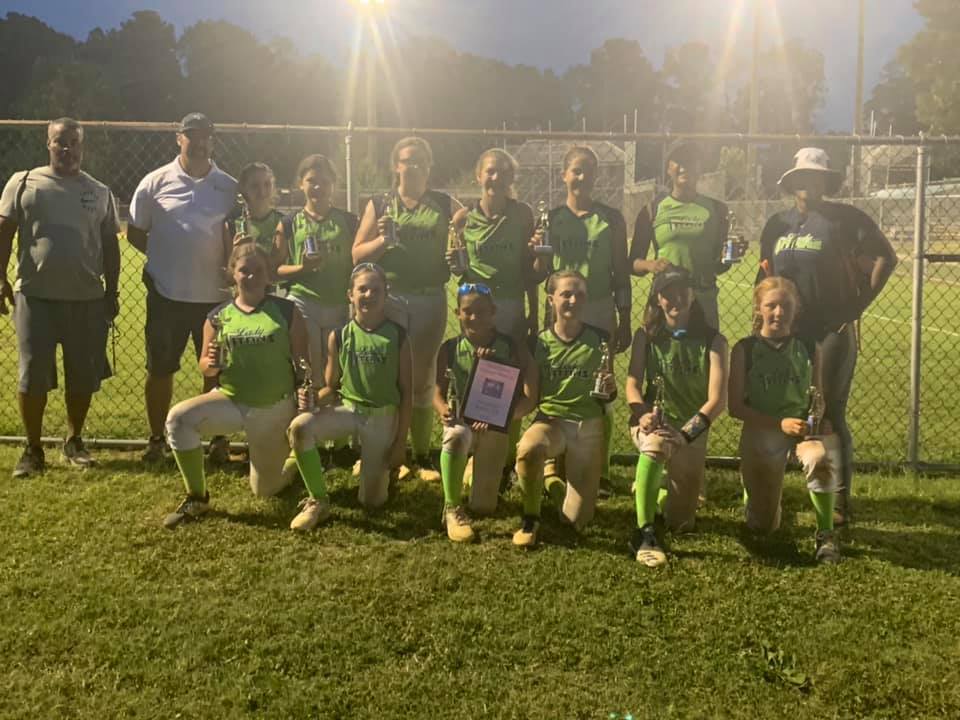 All around a great two weeks of softball for the TSI softball teams!
The 10U Lady Titans have one more tournament this coming weekend to finish out their season.
The TSI softball program under the guidance of Coach Lisa Smith (10U), Coach Tabby Dabney (12U), Coach Angelia Miller (14U), and Coach Dabney / Coach Shifflett (16U) have come on strong to finish the season with some championship hardware.
We have also added Coach Dan Valletta to our coaching staff and he will be coaching our 14U team next year.
---
TSI Softball Tryout Dates
Tryouts for our 2020-21 softball teams will be held at the Tuckahoe Training Center on Tuesday 8/4 and Wednesday 8/5.  If your family cannot make one of those dates, an additional open tryout for all ages will be held on Monday 8/10.
The TSI Softball program is committed to:
Making girls stronger people on and off the field
Encouraging our players to communicate, be responsible and hold themselves accountable
Motivating our players to challenge their limits while providing them with the tools necessary to take their game to the next level
Providing every athlete with the road map to academic success while satisfying all NCAA- Division I academic requirements
Encouraging girls to passionately chase their softball dreams
Providing players with recruiting resources
Demanding excellence
2020 TRYOUT DATES
Select the age group below to register for a tryout:
| | | |
| --- | --- | --- |
| AGE | SOFTBALL TRYOUT DATES | TIME |
| 8U & 10U | Tuesday, August 4 | 6PM-9PM |
| 12U | Tuesday, August 4 | 6PM-9PM |
| 14U, 16U, 18U | Wednesday, August 5 | 6PM-9PM |
| Open Date all Ages | Monday, August 10 | 6:30PM |
Location: TSI Training Center | Cost: FREE

---
Lady Titans Softball
Lady Titans (8U-12U) are Tuckahoe Sports' younger College Developmental softball teams.
Mid-Atlantic Orioles Softball
Mid-Atlantic Orioles Softball is Tuckahoe Sports' more advanced softball teams in its College Developmental Program (14U through high school).
Participating in the Mid-Atlantic Orioles Softball program provides female athletes with opportunities for character development with a high degree of accountability while developing a higher level of Softball IQ and overall athleticism. Our student-athletes are expected to excel in the classroom, on the field, and as good teammates. In addition, we provide a number of activities and groups with the purpose of leadership development and community outreach. This aligns with our company's overall mission as a non-profit.
Mid-Atlantic Orioles Softball is committed to helping our athletes reach the next level of softball with our college development and recruiting resources. Our advisor Michele Hawkins-McHenry has helped more than one-hundred softball players find their ideal college fit; based on skill, academic ability, and personal goals. We see each student-athlete as the unique individual she is and work with families to help them identify and put into place an effective plan of action to accomplish the goals each student-athlete has.
Please contact Chris McKnight, VP of Baseball & Softball, with any questions about the softball program.