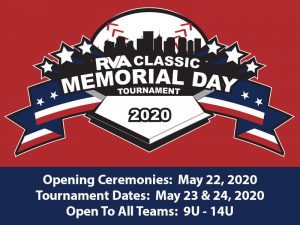 RESCHEDULED: AUGUST 8TH & 9TH
Memorial Day Tourney & Kings Dominion for Weekend of Baseball and Fun!
Tuckahoe Sports Training Center & USSSA Baseball are excited to announce this inaugural Memorial Day Baseball Tournament sponsored by Kings Dominion. In addition, this will be the first USSSA Baseball Tournament held at Tuckahoe Park in Richmond, VA. Finally, this tournament will feature 36 baseball teams across 6 age divisions.
Spring Baseball is only a few months away! This means hundreds of teams throughout the Mid-Atlantic region are preparing to compete amongst the region's best talent. The 2020 RVA Classic Memorial Day Tournament will be one of the most sought after baseball tournaments of the summer. We are proud to hold this tournament on a holiday weekend known for honoring lost military personnel and BASEBALL!
Memorial Day weekend not only appeals to baseball players and fans, but allows families and friends time to get together. Families make plans to travel, attend local and state festivals, enjoy backyard cookouts, or a thrill-seeker favorite – visit amusement parks. In addition to this tournament, all players and coaches will receive FREE passes to the Kings Dominion Amusement Park. Kings Dominion is an enjoyable experience of rides, shows, and games. Kings Dominion is offering family members ½ OFF passes, so everyone is able to visit the park.
The tournament is set for May 23rd & 24th resheduled for August 8th & 9th. TSI, USSSA, and Kings Dominion would like to welcome all baseball teams. Additionally, the 2020 RVA Classic Memorial Day Tournament is for ages 9U – 14U. Get ready for a weekend of Baseball and Fun!!!
Teams Currently Registered:
9U OPEN
1. Competitive Edge-Russell-
PAID
2. Blue Ridge Titans-
PAID
3. Ironbridge Baseball Prowse
4. VA Seminoles Cooper-
PAID
5. Falls Church Copperheads-
PAID
6. Competitive Edge-Harrison-
PAID
10U AA
1. TSI Titans-Hastings-
PAID
2. RBA 360
3. Stars Baseball Fitzgerald-
PAID
4. Reston Warriors Red-
PAID
5.
6.
10U AAA
1. Canes VA-Ruberti
2. Competitive Edge-
PAID
3. 5 Star Atlantic Virginia
4. Falls Church Copperheads-
PAID
5.
6.
11U OPEN
1. Competitive Edge-Green-
PAID
2. Mid-Atlantic Orioles-Larsen-
PAID
3. 5 Star Atlantic Virginia Black
4. 5 Star Atlantic Virginia Gold
5. RBA 360
6. Falls Church Copperheads-
PAID
12U  
1.  Ironbridge Baseball-Jones
2.
3.
4.
5.
6.

13U OPEN
1. Competitive Edge-Black-PAID
2. Competitive Edge-Green-PAID
3. Mid-Atlantic Orioles-McKnight-PAID
4. VA Select-PAID
5. Stars Baseball Zovak
6. Ironbridge Baseball-Bendall
7. MPH101
8. RBA360
9. Stars Baseball 13U Kempton-PAID
10. Stars Baseball 13U Frazier-PAID
11. VA Seminoles-McQueen-PAID
12.
14U OPEN
1. Mid-Atlantic Orioles-Keen-PAID
2. Virginia Beast Black
3. Virginia Beast Red
4. Delmarva Aces South 2023
5. VA Breeze Arsenal-PAID
6.
7.
8.
9.
10.
11.
12.