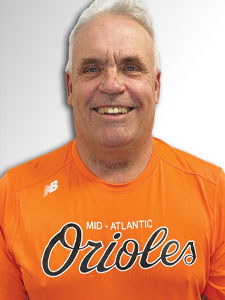 Experience
Frank H. Fulton, Jr. has a 40-year international career of developing baseball student-athletes at every level of competition from youth to professional. Coach Fulton has served as the Head Baseball Coach for Hampden-Sydney College, the Head Football Coach for Averett University, the Head Baseball Coach for the German National Men and Junior Teams, a European Scouting Supervisor for the Pittsburgh Pirates, the Scouting Director for the Ohio Valley Red-Coats, the Volunteer Assistant Coach with the Boston Red Sox A-Team, an Associate Scout with the Florida Marlins, the Head Football Coach at Louisa HS, the Director of Business Development for Perfect Game USA, the Camp Director for Southern Sports Camps, the Head Coach for the Exchange Major Little League Team, and the International Baseball Camp Director for the Schwerin Diamonds and the Elmshorn Alligators of Germany.
Coach Fulton has developed players who have played professionally with the Milwaukee Brewers, Miami Marlins, Baltimore Orioles, Houston Astros, has sent many players into D1, D2, and D3 colleges, networked student-athletes to junior colleges, and has developed players from Germany, the Netherlands, France, Ireland, Czech Republic, Poland, Belgium, Japan, Australia, Venezuela, Dominican Republic, Canada, Virgin Islands, and twenty-five of the fifty USA States. Frank Fulton is available for Hitting, Pitching, and Defensive lessons. Phone: 434-489-4544 Email: gmvmarlins@yahoo.com
---
Contact Frank using the below contact form or give him a call at (434) 489-4544.